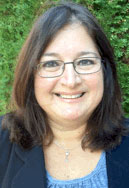 elaine m vieira | research manager
Elaine has approximately fifteen years of market research experience. She began her career in the Customer Loyalty Division of Total Research (which merged with Harris Interactive and is now Nielsen) in Princeton, New Jersey. As a senior researcher in the Customer Loyalty Division, Elaine managed both qualitative and quantitative custom research projects for both B2B and consumer audiences across a variety of industries including transportation/logistics, governmental, telecommunications, among others.
Most recently, Elaine worked at Q Research Solutions focusing on CPG research for an international cosmetics brand, and KL Communications where she managed quantitative studies for an energy provider and for a national snack foods manufacturer.
Having worked exclusively on the supplier side of research, Elaine feels she has the best of both worlds: "I have always loved being the vendor and working with clients. I feel what I bring to the table has been reciprocated back to me over the years in my education of different industries, and who clients strive to be in their competitive environments. Whatever I can do to help them accomplish their goals transcends in my being a stakeholder in their business, and brings me enormous satisfaction to be a part of their bigger picture."
Elaine holds a BS in Marketing from Rider University in Lawrenceville, summa cum laude.