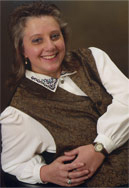 karin a ferenz | principal
direct: 630.412.8989
mobile: 630.235.9834


Karin is the founder and managing principal of Customer Lifecycle, LLC. She is an industry leading expert in the discipline of customer loyalty research and its applications. She has held senior leadership positions with some of the largest global marketing research firms including Harris Interactive and Maritz. She holds a BA in Behavioral Science from the University of Chicago and an MBA in Marketing Research from George Williams College. With nearly 30 years of experience in conducting research and analysis around the customer lifecycle, Karin has successfully helped her clients transform success into significance.
Karin consults with clients on research designs and analyses that will meet specific goals and objectives. In addition, she advises them on the back-end practical application of the information once it is analyzed. She is highly adept at developing strategic solutions to business challenges.
Karin has assisted global, Fortune 100 companies with action implementation and deployment, strategic plan development, value proposition definition, financial linkage to loyalty research data, organizational assessment, and market positioning. Her industry background is coupled with personal insight and perspective positioning her as a valuable asset, able to provide solid business solutions from an informed industry point-of-view.
Karin is a sought after conference speaker addressing voice of the customer action implementation strategies and customer lifecycle integration methods. She has presented at venues such as Frost & Sullivan, The Conference Board, and the American Marketing Association in addition to conducting private seminars for Fortune 100 organizations. Her articles addressing strategic action planning as it relates to the customer lifecycle have appeared in SURVEY Magazine.