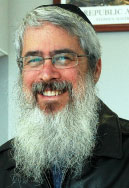 mark s perline | senior consultant
Mark is a 30-year veteran of major research firms, top ten ad agencies and corporate research roles. He has a broad range of experience spanning consumer packaged goods, financial services and business-to-business in diverse industries such as household products, foods/food service, beverages, banking, investment banking, industrial chemicals, insurance, accounting and office equipment.
Prior to joining Customer Lifecycle, Mark was Research Manager at Pitney Bowes, the $5.6 billion market leader in mailing and shipping systems. While there, he spearheaded research to support reconfiguring PB's core business of postage meters including feature/function sets, technical support, and pricing across its diverse base of 1.3 million customers. Mark also helped expand PB's market presence in Europe and South America. Further, he obtained and utilized the "voice of the customer" in PB's move from manufacturing to being a provider of services, structuring tiered pricing levels and shaping how services are offered/bundled for customers.
Among other accomplishments, Mark: 1) helped Dole Food Company shape a new line of fruit-based desserts and beverages; 2) assisted Monsanto in developing communications to their work force about restructuring; 3) partnered with Procter & Gamble in launching Liquid Tide; and, 4) was retained by a Big-4 accounting firm to interview clients in the C-suite to assess their image, satisfaction with services provided and loyalty.
Mark holds a BA in psychology from the State University of New York, and an MBA in marketing from the City University of New York. He formerly taught advertising on the community college level, and has lectured at the Farleigh Dickinson University MBA program on market research. He is a former newspaper and book editor, which brings an additional level of competency to shaping and communicating business ideas.