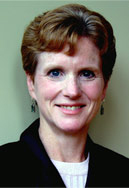 theresa flanagan | senior consultant
Terri Flanagan is a specialist in customer loyalty research who has held a number of business leadership positions in the market research and consulting industry. For several years Ms. Flanagan served as a Corporate Officer and Group President - Customer Loyalty Management for Harris Interactive, a $200 million, publicly traded market research and consulting firm. Under her leadership, the Customer Loyalty business grew to nearly $25 million, with strong year-over-year revenue and profitability improvements. Prior to her position at Harris Interactive, Ms. Flanagan held various senior positions at Total Research Corporation. As Division President at Total Research, she co-founded and built the $16 million Quality Management Division. Her experience includes strategic planning, P&L ownership, sales and marketing management, staff training and development, and hands-on client consultation. Over the years she has worked with scores of Fortune 1000 companies across a broad range of industries.
Ms. Flanagan holds a B.A. in Economics and Communications and an M.B.A. from Rutgers University. She has been a frequent speaker at many conferences and seminars on customer satisfaction, loyalty and quality management, including conferences sponsored by the American Marketing Association, American Society for Quality Control, The Conference Board, the Institute for International Research, and the Council for American Survey Research Organizations. She has also published articles in the National Productivity Review, Total Quality Observer, and Quirk's Marketing Research Review.